This time, something a bit different: An anthropological and philosophical understanding of 'reading' and 'shading' on RuPaul's Drag Race
Being a fan by now, it is hard to admit. Yes, I am fairly new to RuPaul's Drag Race. So I am doing all I can to 1) catch up on the past 11 years of the show and 2) get an in-depth understanding of it. Although I knew of the existence of the show for a long time, not being a fan of reality shows I always thought it wasn't 'my cup of tea'. Now knowing what it's all about, I feel slightly embarrassed admitting that I stereotyped it as just another silly reality show. Because RuPaul's Drag Race is definitely one of the best things that happened to me during lockdown. It can lighten up the darkest day fuelled by the pandemic we are living with. It opened a door to a world I barely knew anything about – even though it's a world we should all learn about, and from. Being an anthropologist I always try to get a better understanding of other people's worlds. But the more I am watching the show, the more clues I discover that I do not understand as a straight white woman with way too little knowledge about the LGBTQ+ community. So I was thrilled when this year this book was published: RuPaul's Drag Race and Philosophy. In this, and following blogs, I will take you with me on my RuPaul journey and share some of these philosophical and anthropological insights with you.
But first a very brief explanation of what we are talking about, for those unfamiliar with MAMARuPaul's Drag Race. The show is the first pop phenomenon presenting drag life. The format is simple. Every week the (drag) queens are presented a mini and maxi challenge. Every week there is one winner and two 'losers. The latter two have to 'lipsync for their life' on stage. One stays, one goes home. This goes on until only three candidates are left that make it to the grand finale. By now the show counts thirteen seasons and has become the highest-rated television program on Logo TV. It earned RuPaul five consecutive Emmys (2016-2020) for Outstanding Host. The show itself won a Primetime Emmy Award for Outstanding Reality-Competition. I think that initially it did not interest me because I thought of it as a different version of the show America's Next Top Model (ANTM), partly due to the incredible resemblance between RuPaul and Tyra Banks. But whilst ANTM is all about drama, impossible expectations and incredibly high beauty standards – Drag Race is all about values. And of course glitter, humor and entertainment. So what makes it such an interesting show to analyse anthropologically and philosophically?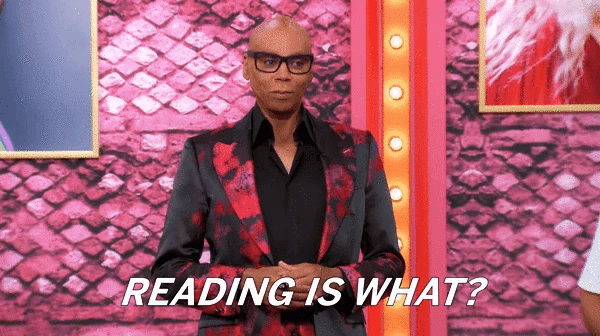 We all grow up with certain rules of what it means to be a man or a woman, but none of us grow up knowing the rules of being a drag queen. And that's the first thing I learned: there are no rules, there are only values – and values are so much more profound than rules. So watching the show is watching drag queens learn their gender at the level of values – on their own terms. Or as Yvie Oddly (season 11) said: "It's people who have different views and different aesthetics and different feelings that really show us all the possibilities of the human experience." An anthropologist couldn't have said it better.
One of the mini challenges that I love is the 'Library' challenge, stating that 'READING IS FUNDAMENTAL'. It is an infamous mini challenge where the queens have to 'read' each other and 'throw shade'. Do what?
Drag Race teaches us about drag culture. It's aesthetics, history, ongoing struggles and language. The library challenge is paying tribute to the 1990 documentary 'Paris is Burning': a film about the 80's New York ball culture and the African-American, Latino, gay and transgender communities involved in it. It explores how its subjects deal with issues such as AIDS, racism, poverty, violence and homophobia. But the film also provides the most important definitions of the concepts of 'reading' (the art of ritual insult as practiced within communities of drag queens, transpeople, and queer people of color) and 'throwing shade' (the art of the sidelong insult).
Reading versus shading
Whilst in the definitions above may seem similar, they are not the same. Or as queen Dorian states in Paris is Burning: "Reading came first. Reading is the real art form of insults". A 'read' only occurs between two members of the gay world. In the documentary Paris is Burning Dorian states that if it's happening between the gay and the straight world, it's not really a read, but rather an insult, because between queens the political danger and discrimination is removed. The context changes the meaning of the words. A few examples of some good reads.
Violet Chachki, you keep training those corsets, girl. Pretty soon your waist size is going to be lower than your IQ (Katya Zamolodchikova)
'Adore Delano, these other girls are gonna say you have terrible makeup skills, you have no fashion sense, and you're dumb as a rock. But they're wrong! You don't have terrible makeup skills' (Alaska).
'Jiggly Caliente, you're such a fat slut after sex you smoke hams' (Sharon).
'Tyra Sanchez, if you are America's sweetheart then America needs a heart transplant' (Pandora).
'Adore, I know what you got on your SATs. Ketchup' (Bianca).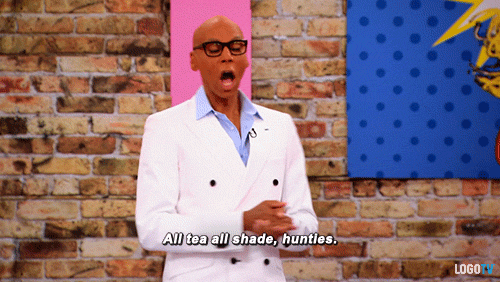 To read a drag queen, you have to say it to her face, but to shade a queen she doesn't have to be present. In philosophy "reading" requires something that is called uptake. It basically means that the person you are speaking to needs to hear you and understand you – then you've got uptake. If the queen being read doesn't understand it, it's not really a read as the whole idea is that it's an in-your-face insult. If it's something the queen has to think about, something less direct, it becomes a shade. So the insult in a read is more direct than in a shade. Therefore the latter is sneakier and less confrontational.
Another difference is that a queen reading another queen is intended to make people laugh, whilst a queen throwing shade is not. For those who do not watch Drag Race, this challenge might now sound awful, so stay with me for a bit longer. I promise you it is not. It is mainly about being as funny as possible by being provocative and looking for the boundaries of humor. Not knowing all of this it may seem that on the show a lot of the queens are just mean, 'bitchy' and enjoy causing drama on TV. But understanding these differences, and how thought-through many comments are, gives the viewer a completely different perspective and understanding. It makes us understand the depth of the humor. But what is humor anyway? What makes us laugh and why?
According to philosopher Lucy McDonald the theory of humor that can best explain the power of a good 'read' acknowledges that humor and laughter are ways of relieving tension. This again is very context dependent. The same joke can be experienced completely different in different situations. Something becomes funny if it is represented as threatening, but in a non-threatening situation. "We perceive the threat and feel nervous energy, but then we recognize that the threat isn't real and we can release that nervous energy, often by laughing." So even though the jokes can be quite harsh, because they are delivered in a 'safe' environment, the person joked about can release tension – and laugh.
This is especially important looking at the fact that many queens competing in Drag Race have faced abuse for their sexuality, race, gender and identity. More have than have not shared stories of sexual abuse, body confidence issues, health problems, eating disorders, mental health and exclusion by families, communities or society in general. This could make one think that hearing insults would hurt even more. But these are not insults that another person shouts at you on the street. Being insulted by another queen, someone who might have similar experiences, offers an opportunity to relieve tension and anxiety. A good read therefore offers an opportunity for queens to confront their insecurities in a safe and light-hearted way. Laughing about yourself can be lightening and empowering. Drag queen Eureka ended her own (hilarious) read of the other queens saying: "Thank you all. I can't wait to hear you all read about me being FAT."
So, while the reads and the shades on RuPaul's Drag Race are funny and entertaining to the audience, they can also be cleansing. They offer breathing space from the hateful world outside of drag and enable the queens to feel part of the community. The queens of Drag Race are not only innovators when it comes to style, make-up and performance, but also language. Understanding these complex and multifaceted ways of communicating by the queens makes watching the show not only more interesting, educative and layered, but also funnier and more joyful.
Source: RuPaul's Drag Race and Philosophy – Sissy That Thought by Hendrik Kempt and Megan Volpert