A conversation with Alexander Gershberg.
What and how we eat strongly defines our identity and relationships. But for chefs, the meaning goes even further. Especially for chefs who grew up in a conflict area and now strive for success elsewhere. For them, recipes and stories cannot be separated from their identities. Stories about traditions, politics, memories and economic resilience. For them, food is a means of communication, a universal language and a form of personal expression. One of those chefs that uses his dishes as a means of communication is Alexander Gershberg. Last month I had the pleasure of interviewing him. We spoke about the message that his food carries and how growing up in Israel has influenced the way he works today.
When I ring the bell, Alexander opens his door in shorts and barefoot. He does not engage in social distancing and hugs me in the stairwell. His apartment is sunlit and through the spacious kitchen he leads me to the balcony. There is a small table, two chairs and a plate with perfectly cut watermelon pieces. Before we start the interview, he says that if I smell something strong, it is probably his homemade worm hotel behind me. That is a natural way of composting food leftovers. Unfortunately, the system is not working perfectly yet. "But it's all a learning process," Alexander says smiling. He turns his face towards the warm May sun, and stays like that for the next two hours.
When Alexander was 22, he moved from Israel to Amsterdam. Initially for his dance career. Today he is a chef specializing in vegan and macrobiotic dishes. He regularly teaches cooking workshops, cooks for de Partij van de Dieren, organizes large food events, is the founder of the Women's Cooking Project and has written two cookbooks. His latest book, Energy & Vegan, has been awarded as the best vegan cookbook of 2019. In the book Alexander describes how food influences our body according to the five Chinese elements. How what we eat impacts us on an emotional, physical and mental level. And, how by choosing our foods we can actually influence our mental and physical well-being. What drives him is his mission to make people eat healthier and more consciously.
When he moved to the Netherlands, the food here was the first and biggest culture shock. Many people here eat out of necessity, to survive. It has to be fast, efficient and cheap. Even after 14 years, he cannot get used to the lack of love, pleasure, emotion and festivity in the food. If he wanted to eat good and healthy food in the Netherlands, he had to cook. What started out of necessity, became his passion.
Alexander was born in Russia, where he lived the first five years of his life. When the Soviet Union fell and the Russian borders opened, he moved to Israel with his family. In his new home-country he was introduced to foods that did not exist in communist Russia: pizza, pasta, baguette and other "exotic" products. The familiar dining table he knew changed into a mix of Russian, Jewish and Israeli dishes. He describes food within these cultures as powerful. "It is important, always present and keeps people constantly busy. People are constantly either talking about food, or making food."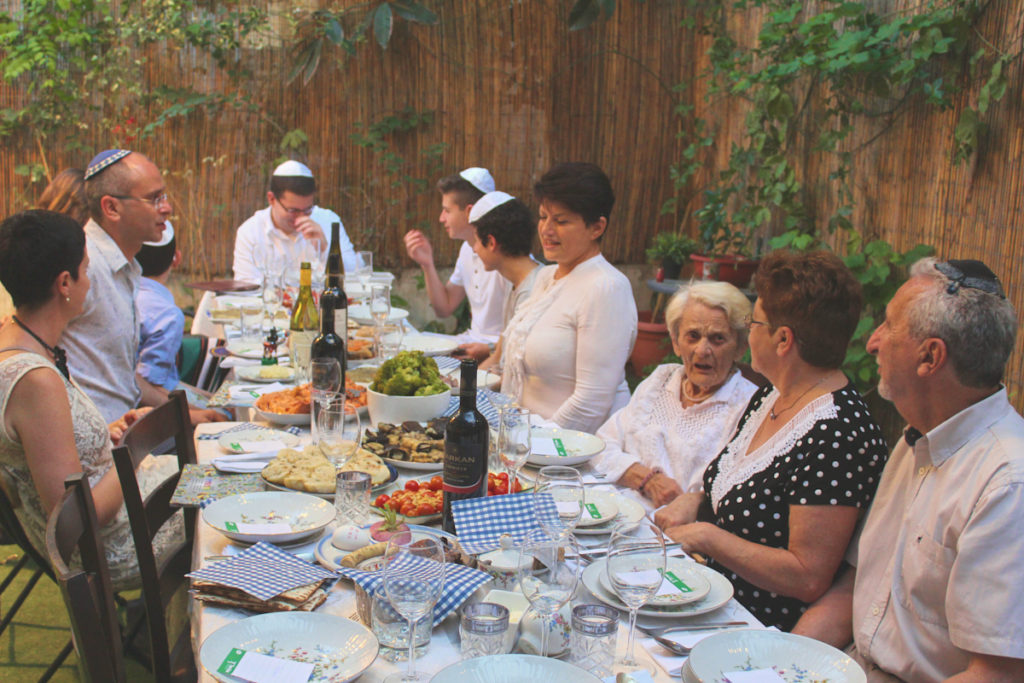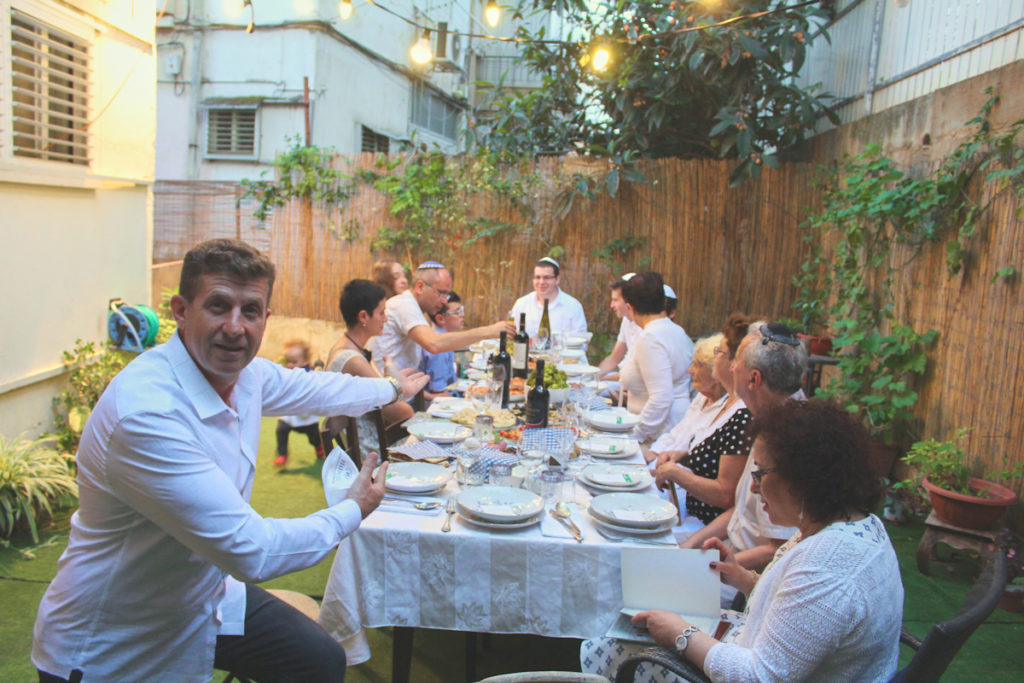 Do you remember the first time you made a dish and realized that this was something you really enjoyed doing?
Not really, I was quite indifferent about cooking for a long time and I think I'm still indifferent about cooking. I love good food and I enjoy good food and it's important to me. I can have fun cooking, but I think my main objective to start cooking was to inspire people to become healthier. I thought it wouldn't be enough to just talk about it. I really need to cook for people and let them taste it to convince them. Cooking was always a medium to tell a message. And the message was: people should change their way of living.
When Alexander was a teenager, Israel experienced a peak in attacks as a result of the war with Palestine. 147 bombings took place between 2000 and 2010. A well-known event from that time is a suicide attack outside the disco "Dolphinarium" in June 2001. A Hamas-affiliated Islamic terrorist blew himself up in front of a nightclub on the beach in Tel Aviv. 21 Israelis, including 16 teenagers, were killed. The majority of the victims were teenage Israeli girls, whose families had recently emigrated from the former Soviet Union. When this happened Alexander was 17.
Did you feel like growing up in a conflict area?
You do, you are aware of it of course. I mean, people were bombed in the streets. My friend got bombed and her friend who was standing next to her died because she was closer to the suicide bomber. I think in your mind you understand that this is abnormal but emotionally you get used to it very quickly. It becomes very normal to hear sirens and rockets falling. It is very normal to know that you will go to the army and you might die or you might kill people. Somehow you get used to it and it becomes a banality.
I can imagine that you create some types of coping mechanisms?
I think they're created naturally. In the beginning everybody is shocked, but at a certain point you become indifferent to human pain or suffering or to the fact that people die or are being killed.
Did that resonate in a feeling of insecurity or unsafety when growing up?
I think there was an unsafe feeling yeah. The Israeli society is really harsh, I think. Already since we moved when I was five years old, I always felt uncomfortable and vulnerable towards the aggression of people. So I never felt very comfortable in this sense. I was also bullied as a child and even as a teenager.
Like all young people in Israel, conscription started for Alexander when he was 18. At school he specialized in technology, physics, robotics and mathematics. For this reason, he was employed in the military as an electrician for F16s. It was a difficult time for him. "It just didn't make sense to me. I think most people were very stupid. Especially the commanders. In fact, you are constantly under the control of very incapable people. I couldn't bear that anymore. I mean it's like I went a little crazy because it's really like you're in a Kafka novel. I find the inner logic, structure and politics of an army terrible. In fact, you have to be at peace with killing other people. That does not make sense. I mean, you need to be ready to fight very soon, so you may have to shoot people by the age of 18. The opponents are approached as the enemy, so you don't look at the human aspect." With his current life experience, he would no longer join the army, but as a child you take it for granted. "I have pictures of myself with giant guns on my way home. I laugh at those pictures, I was proud. It was very common in Israel to see young people with guns." Looking at Alexander, I can hardly visualize it. The birds around us are chirping and he is gazing towards the bright sun. To me he has a gentle, peaceful and above all patient appearance.
Do you think that a certain state of living in insecurity changes the way people interact and eat together in Israel?
I don't necessarily see it that way, I think that people in Israel can be very warm and generous and that's the beautiful side about the Israeli culture. I talked about the negative side, but at the same time, there is a very warm and generous atmosphere between the people and it is reflected in the food culture. It's very generous, it's very giving, it's very inviting. So let's say the interactions are very intense: for the negative and for the positive. And that's the part that I do miss very much. I think it comes a lot from the Jewish tradition which is very generous. And also because it's a warm country and it's the Middle East. In a warm country people naturally spend more time outdoors and they are more open.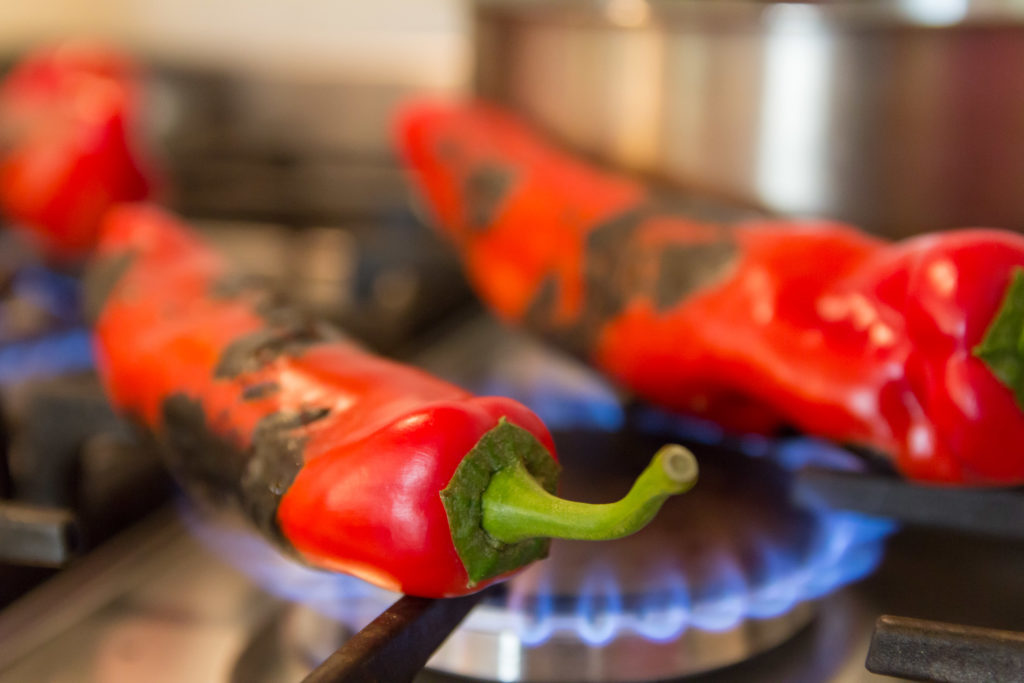 How and when did you choose to leave Israel?
Well I got accepted to a dance school here in Amsterdam. I really wanted to study here when I visited as a teenager and I really liked it.
Did your family and friends accept your decision to leave?
Yeah because it is not easy to make it in Israel. When I left I was 22, so still very young. It's not easy to make a career as a young person in Israel and many young people leave for a better life in other Western countries, they call it the Escape of the Brains – Brain Drain. You see that also in the culinary world, many chefs have left. Of course people are also sad that you are leaving and they will miss you but they are also happy for you. Going to Europe is a cool thing, people are rather jealous than disappointed.
So tell me, you arrived in Amsterdam, then what happened?
My school used to be called Theater School, Hogeschool van de Kunsten at Waterlooplein. It was exciting, fun, very hard, and challenging. Especially financially, bureaucratically and practically in the sense of finding a place to live. If I look back I just jumped into the water when I moved here without money, without a plan, without really knowing what I'm doing and I survived by improvising. Now looking back it was harsh, but I really enjoyed it. There was a strong existential fear of not surviving economically, not having a place to live, not having food.. but it made me tough and taught me about life and I grew as a person.
Completely different existential fear than in Israel?
Yes of course. At home you can always move back to your parents. You always know your connections, your way around, how to make money. Here it was harsh. And I think I still carry this feeling with me a bit, will I make it? Will I survive?
How did your cooking career start?
Well I started experiencing the benefits of the macrobiotic way of eating and I started to feel very good so I realized that it's something that I want to do more and I wanted to study more about it. I realized that I want to inspire more people to eat in this way. Being a chef is a very good medium to present foods to people and to convince them to eat better. I started by organizing pop up events and doing catering. The cooking was much more successful than the dancing. First of all, economically and just by getting immediate feedback. But most of all, I felt like this is what the world needs. The world needs more chefs and teachers who will inspire people to eat in a different way.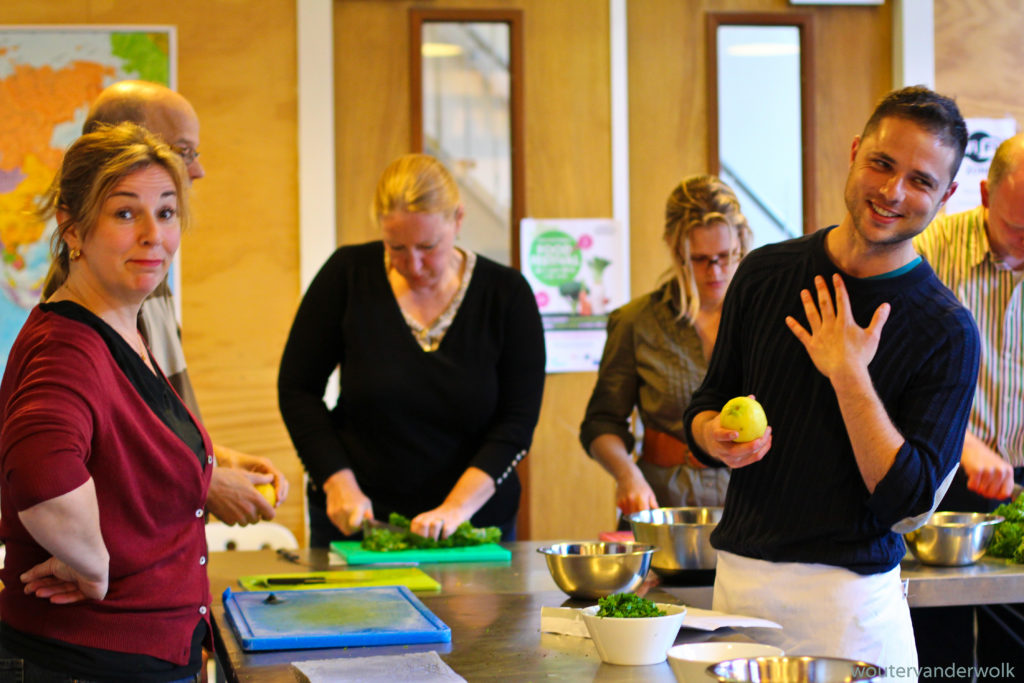 Do you still use skills that you acquired as a dancer in your work as a chef?
Definitely. I think the whole idea of performativity and standing in front of people. I'm teaching a lot and sometimes in front of hundreds of people. I'm not scared of it and I feel very comfortable with being on stage. It gives me energy. The second thing is the creativity. Creativity that you put into designing a menu or into food styling or writing. And the third thing is the idea of movement. To understand movements is something that helped me to understand the dynamics that are present in cooking which is something that I used a lot in my last book Energy.
How much of your cooking is influenced by your cultural background?
I think taste is very important for me. I see that many chefs in the North- West Europe are cooking from a concept. For me cooking comes much more from the guts. It's more physical. The taste is very important. Cooking for me is very sensual.
Is that more present in Middle Eastern cultures?
Completely, in the Middle East and in Israel. That it's coming from your flesh, and it's physical, it's passionate and it's very sensual. Also, I always make too much food. Every time I tell myself okay, today I will make just enough, but it always becomes too much. And yes, my food is full of flavor and life energy, somehow more fire energy.
Would you define yourself as an Israeli chef?
No, not necessarily. Unless it is very interesting for the marketing (with a laugh on his face). My goal is so much broader than just bringing the Israeli cuisine to the front. I'm a fan of this cuisine, it's very good but again, it's just a medium to bring my ideology to the front. We were sitting with my agent and my publisher before Energy and thinking to write a book called Vegan Tel Aviv, but then I decided not to because it's a trend, Israeli food. Maybe it will stay here for very long time, maybe not. In the end what I'm doing is not about the trend it is about communicating a certain message. So it's important to me that, no other branding takes over my activities. I published Energy from a really pure ideological ambition to bring this message to the world to whoever is interested and whoever wants to read it. I realized that it would be a very small niche group of people. But I told myself, if it's five people who are interested, then these five people really need to read this. Saying that, slowly the book is getting out there and you see there are more and more people getting to know it. So I'm very happy because it feels real. Doing something from a certain essence and feeling like I'm communicating truth and that it resonates with people is very fulfilling.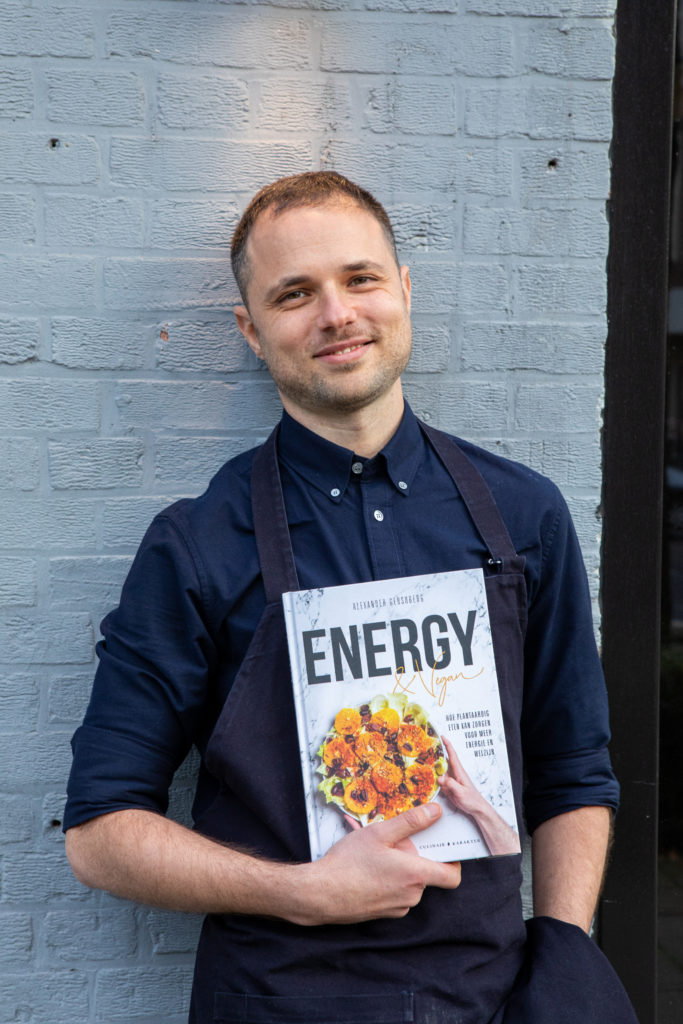 Do you see a difference between now and ten years ago looking at the acceptance of veganism?
Completely. You know the fact that I'm doing vegan cooking became cool. Today when I'm saying I'm a vegan chef to 'normal' people they are like wow, vegetables and stuff. My goal is to make a change in the world and not just follow the mainstream. So maybe I'm loud, maybe I'm provocative, but if I don't speak up the truth then what's the point of doing what I'm doing?
For Alexander, cooking is about more than tasty recipes. It's about the philosophy and science behind what we eat. In his book he describes it in the following way: "Food is not just food. It is not just about taste. Food is the life fuel that nourishes us three times a day. Food tunes us in with life. It tunes our personal energy, the quality of our physicality, our thoughts, emotions, mindset, direction in life and spirit. Every physical and spiritual layer of the human being is influenced by what we eat. By cooking we can change, affect and influence what we are, who we are and how we are feeling – three times a day."
It's this underexposed dimension of food that he likes exploring. He strives to take a closer look at our food, beyond nutritional values. Food is a way to express himself and emphasize the norms and values ​​he stands for. But not only that. Growing up in a conflict area, a country with a constant emphasis on differences, has shaped him as a person. The toughness and strong will to achieve success, mixed with his warmth and passion define him as a chef. He is now using his success to bring people together. For him, cooking is ideological, political, an expression of creativity and keeping alive memories and traditions which he grew up with. "Like a mother's hug, like a smile, like a ray of sunshine, like nature, good friends, good books or nice conversations, some things just make us feel good. Food is one of these things. It is something we crave for, that we enjoy and we like."